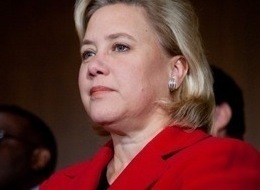 Louisiana's Mary Landrieu just caved
.....$100 million bucks of OUR TAX DOLLARS was too much to resist....Read about that
HERE
at Huffington (believe it or not)
You know, I REALLY thought she might show some integrity, but....OH, well.
And the Leftwingers hate PALIN? :-) Think she'd take money for her vote?
Yes, this is ONLY to "Open Discussions" after the Thanksgiving Break......but, we could have rid ourselves of this whole monstrous nightmare health bill if Reid didn't get the votes.
YOU THINK

BLANCHE LINCOLN

OF ARKANSAS WILL ALSO VOTE YES... AND WELCOME DISCUSSION?
I'm hearing a majority of
Arkansans do NOT want this bill
as it stands now. (83% are 'somewhat satisfied with their health care'..oops)
And, if Landrieu caved today.....
WHAT WILL SHE TAKE FOR HER VOTE WHEN IT'S ACTUALLY 'THE VOTE', THE REAL VOTE?
Mr. Z used to say "No earmarks...no lobbyists....this is turning into a Banana Republic." He was almost always right. He certainly was with this one.
z