There were no Armenian Bobbsey Twins when I was a kid
. Nancy Drew was blonde and blue-eyed, I wasn't. Somehow, despite all of that, I devoured those books, loving every second of reading them. I'd have thought it's pretty typical that young muslim kids are doing the same, but you really must
READ THIS
.
Below, you'll see a quote from a young girl who agreed with me:
"Not many of the books have Muslim characters in them," said Sakina Walji, an eighth-grader at North View Junior High in Brooklyn Park.
"But it works out pretty OK for me. I like to read any good books."
That's how I felt...though I didn't even give a second's thought to missing Armenian characters and, of course,
nobody asked if I was sensitive to that fact
:-) If Sakina, above, is only in the 8th grade, I'm making a guess she's born here and it didn't occur to her, either, that Nancy Drew's last name doesn't have "al-" attached to it. "Al-Drew". naaa "Drewian" didn't work for me, either.
But, educators are feeling Sakina needs to identify with islam as she reads books here in America for some reason.
I'm still wondering why. I got my fill of Armenian things at home and at church and church-related functions where we got the fabulous foods, music, etc. I was AMERICAN, my Armenian-ism was a fun cultural addition to my already rich life. By the way, nobody ever asked if I felt robbed of my Armenian background and would I like reading books about Armenian kids. I was AMERICAN, why read about Armenian kids? They were KIDS, like me, like Black kids, like Jewish kids, like Muslim kids.....what was the big deal? Kids share something that transcends nationality and that's what they want to read about.
But, the educators are doing their best to confound this: "Books oriented toward Muslim students are apparently more common at some grade levels than others. "They're easier to find for elementary kids," said Lori Saroya, president of the Council on American-Islamic Relations (CAIR) Minnesota.
"There are a number of books out there focusing on Ramadan [the Muslim holy month], but they're more targeted for younger kids. I've heard of some series of fiction books for junior high kids, but they are difficult to find."
WHY should they be found at all in American schools? There are FAR FAR more LATINA kids in America, right? FAR more Jewish kids, right? If we're going to go this ridiculous route of pandering to special interests more than we try to build up a melting pot society we once were, why has nobody demanded Hispanic books, Jewish books, or more Black books, for that matter? How's about a Black Nancy Drew? SO, why now, MUSLIM? It's still quite a small minority in comparison to the groups I've listed here!
You do the math; Tell me if this makes sense to you and why our American textbook people are fighting so hard for this. There have been exposes on how many Arab countries own American textbook companies but I"ve been Googling and it seems like it's being kept the best kept secret.........if you find anything, let me know. There is
THIS
, of course, for Arab kids going to school in America...but I believe the horrible questions you'll see there are only in Muslim school books and it's horrifying but try to fight CAIR, right?
Wouldn't our country be better off sticking to its philosophy for years and years of promoting AMERICANISM in this country? I didn't miss Armenian kids in textbooks or novels.........WHY are we suddenly catering to such a minority....they're apparently pushing, that's why. And then the question to that is WHY? Do you agree, or do you feel Arab children would feel more 'whole' were they to read about Arab children? Obviously, I don't mind a story or two with a child named Soleila, but let's make them stories about American values. That is, after all, where these children are living.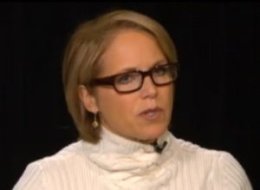 Katie Couric feels we need a Muslim "Cosby Show"
because that show supposedly did so much for Black Americans. Do we need a Muslim Cosby Show? Couric feels it would counteract the 'bigotry' against Muslims in America. Can someone site any huge numbers on bigotry in America? Please do.
Are things getting a tad out of hand? Can't we go back to being Americans and expecting those who live here to be the same?
(I tried to google 'muslim teen images' and 'arab teen images' for this post but, apparently, that's forbidden? "Images of muslim teens' seemed to work until I clicked on a picture, then it was a goner, too)
z