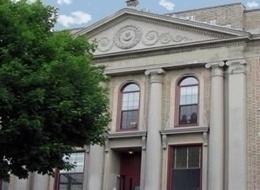 Since when does an American school have the guts to do
THIS
?
"A Rhode Island high school is set to
fire every single teacher
after the
teachers' union refused
to go along with the superintendent's proposed plan for increased workload without much extra pay. The school, Central Falls High School, was one of the
worst-perfor
ming high schools in the state.
"
I won't quote too much from the article you can open in the link; and you can keep linking into it for more and more info
rmation. I want to give you the
SHEER PLEASURE
of reading how a school superintendent,
FRANCES GALLO
(God BLESS you!) exposed the union and chided parents with "
Remember, we need YOU if we are to reach our potential
.."
Ducky
alerted me to this and I want to thank him for it........Would that more schools would get really serious and American schools would start performing again as well as they did when I was a kid~!
z